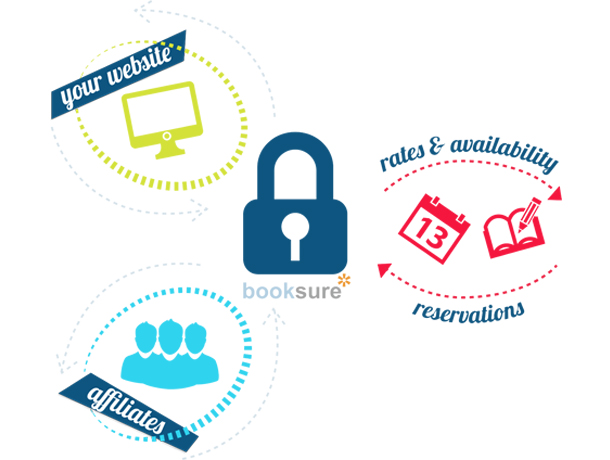 Booksure
Company :

Booksure

Category :

Software-As-A-Service (SAAS)

Project URL :

www.booksure.com
What is Booksure™?
Booksure™ is a secure online booking and payment system that allows you to take enquiry-based bookings through your own website and accept credit card payments securely via the internet. Booksure™ allows you to accept secure bookings and credit card payments online no matter how your guest approaches you - via the internet, email, telephone or as a walk in. Booksure™ has been designed specifically for guesthouses, bed and breakfasts, apartments and other independent accommodation providers. Booksure™ is not a Real Time system, what does this mean?
Guests can enquire directly from your own website.
Guests can pay immediately for their booking online from anywhere in the world at any time, as soon as they have received confirmation from you that accommodation is available. You and your guest pay NO Commission. Booksure ensures that all your booking information is organised and stored securely online - making it easily accessible to you no matter where you are in the world.
Why do you need Booksure™?
Deal Direct - The number of online bookings made by guests are growing rapidly. Guests however prefer to deal directly with accommodation providers and avoid booking through third parties who charge high commissions. With Booksure, guests can begin the booking process by enquiring directly from your own website, cutting out the third party.
Credit card Fraud
More and more guests are aware of the risks involved in sending their credit card details via non-secure methods such as email, telephone and fax. When using Booksure, nobody but your guest has access to their own credit card details, therefore eliminating the possibility of fraud.
Convenience / Costs
With Booksure™ paying is a click away. Your guest does not need to go to the bank or even another website. Booksure™ brings the credit card machine to your guest. EFTs and bank transfers from overseas are very expensive so most guests will opt to pay with their credit cards. Booksure brings the credit card machine to your guest. Booksure makes these direct credit card payments possible.